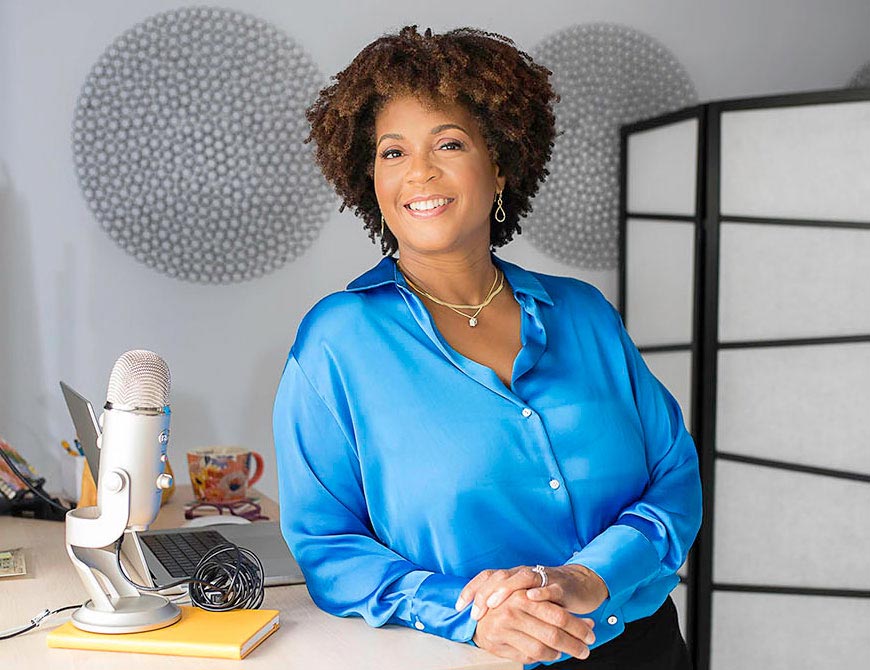 "Jennifer's passion is contagious and will no doubt make you a better person and strategist."
Wendy J. Roundtree
APR, Founder and Chief Storyteller,
Jarel Communications
Interested in booking

Jennifer

for a keynote?
Jennifer Hudson's speaking superpower is showing communications and business leaders how to embrace public relations as a strategic practice capable of transforming entire organizations.
Jennifer inspires PR leaders to step boldly into their role as the trusted advisor every organization needs, and opens the eyes of business owners to the depth, breadth, and power of communications they never knew they were missing. With poise and prowess, she guides audiences to see their potential, define their goals with purpose and precision, and serve their clients (and themselves) more deeply.
Jennifer's keynotes also encourage company executives to think and act according to their values and strategic goals. She inspires leaders to engage varied and diverse voices to help their organizations create more authentic, inclusive communications and champions aligning creativity, intention, and drive. Jennifer's expansive knowledge and motivational style will ignite audiences with a greater sense of purpose in themselves and their careers.
Why communicators must make space for diverse voices
As a PR professional, you know how to get visibility for your clients, but it's easy to abdicate your other responsibility – serving them as a strategic advisor. In this session, discover how to be the trusted advisor your clients need by leading ongoing corporate messaging sessions that add meaningful revenue to your business. You'll also demystify how, in your expanded advisory role, you can support clients so they create messaging that is inclusive of diverse voices and moves people to take action.
You will...
Why executive communication should ensure inclusion, safety, and belonging
Senior leaders know that communication with their teams is a key component of organizational culture. Too often, however, these leaders lean too heavily on "talking points," which are generic, use organization speak, and are all too often created with little input from the employees who live and breathe the work of the organization. During this presentation, senior leaders will explore a new way to approach communications – one that incorporates authentic messaging with the input and points of view from a range of staff to elevate the voices of employees "behind the brand" who are typically closest to key stakeholders. Through the development of more inclusive messaging -- which can be used in presentations and speeches -- they'll discover how to more effectively communicate the organization's brand and culture, as well as their own unique thought leadership.
"Jennifer is a consummate professional with a depth of knowledge about public relations. She is equally adept at communicating that knowledge to her audience. Her presentation was engaging, insightful and motivated us to action. I would highly recommend her as a speaker, presenter and coach!"
Karen Swim,
APR, President,
Solo PR PRO
Jennifer has spoken for...
Association of Fundraising Professionals
Hospitality Human Resources Association of Broward County
Moxie Camp by Alexia Vernon
National Arts Marketing Project Conference
PRSA Greater Fort Lauderdale
PRSA IPA (Independent Practioners Alliance)
Jennifer R. Hudson is passionate about helping clients use powerful, effective communications to strengthen and grow their brands. For 25 years, she has developed and implemented strategic communications programs, facilitated workshops, launched businesses, and secured notable media coverage for corporations and nonprofits. Prior to launching her company, ThinkBeyond Public Relations, Jennifer served as a vice president of communications at British Airways, where she oversaw external and internal communications in 18 markets.
She also managed global public relations for travel technology firm Sabre, founder of Travelocity. Jennifer is a certified mentor and coach with The Venture Mentoring Team, Radical Partners and 1909 Accelerator, which support entrepreneurs and social impact leaders, and accredited in public relations (APR). She is a past president and board member of the Greater Fort Lauderdale chapter of the Public Relations Society of America and a member of the National Association of Women Business Owners.
"Jennifer is Dynamic. She has the ability to connect the dots and pluck themes out of varied ideas. The core values, mission, and vision that her presentation helped me to uncover now guide my company's work, our hiring, and my leadership."
Dan Grech,
CEO,
BizHack Academy